Office desks include styles and features suited to a professional, office environment. Learn more about office desk construction, types, features, and care.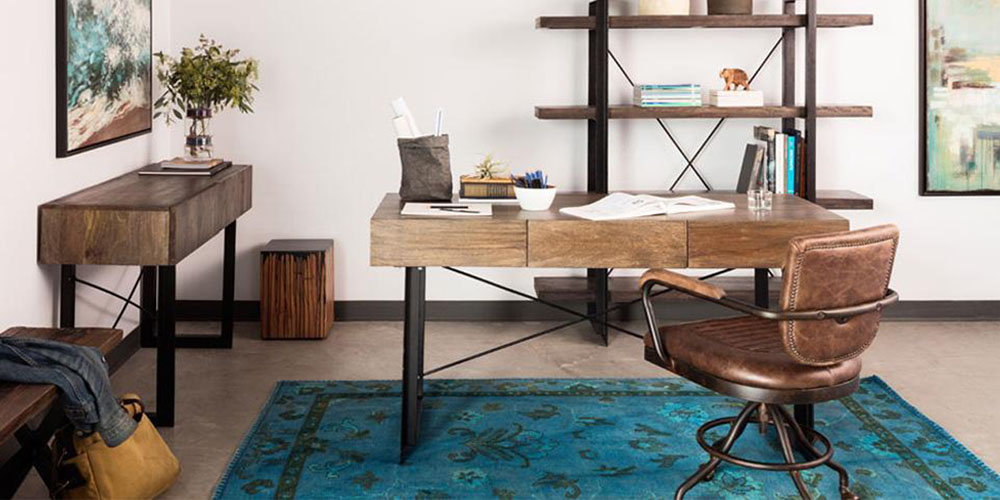 There are several factors to consider when selecting an office desk that will best complement how you work and your work space. The following guide walks you through the different types and features of office desks to help you stay organized and is beneficial to your work performance.
Office Desk Construction
Office Desk Shape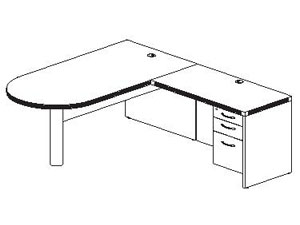 L-Shape Desk Plan
An L-shape desk offers plenty of surface area for equipment and multitasking. Well-suited for corners and large areas, an L-shape desk is connected by aperpendicular wing, referred to as a "bridge" or "return", which determines the perspective while sitting at a desk. Determine the appropriate configuration according to choose your comfort when selecting a "right return" or "left return".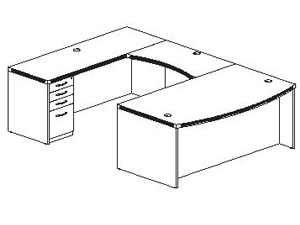 U-Shape Desk Plan
A U-shape desk carries a similar format to the L-shape desk. In this case, a bridge connects two desks forming a "U"-shape. The layout of the space will determine the configuration a U-shape desk. If sitting at the main desk and the bridge is at your left, it is a "left bridge" U-shape desk; if the bridge is at your right, it is a "right bridge" U-shape desk. A U-shape desk is well-suited for large areas and offers ample space for supplies and equipment.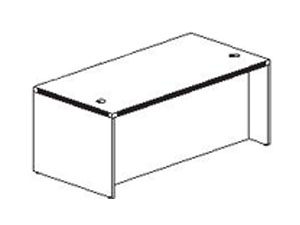 Open Desk Plan
An open desk plan offers countless ways to configure your space, from adjacent to a wall, to the center of a room. Unlike L-shape and U-shape desks, open desk plans typically comprise only one principal desk and no accompanying furniture pieces. Ranging in various sizes, open desks can refer to computer desks, executive desks, credenza desks, secretary desks, laptop stands, and conference tables. (See "Office Desk Types" to learn more on these styles.)
Office Desk Materials
Wood
Wood office desks offer an attractive, natural look that comes in a variety of colors and finishes. Genuine wood desks are typically more expensive, and are more prone to signs of wear from rigorous daily use.
Metal
Metal constructed office desks offer solid construction that is ideal for desks that will be subjected to long-term heavy use of high-traffic areas. Metal desks offer sleek appearance.
Plastic
A plastic finish offers many benefits including affordability and durability. While plastic constructed office desks may not offer the same aesthetic value of wood or metal, plastic office frames come in a wide variety of colors to complement any aesthetic. Be sure to seek a quality plastic, or thick, high pressure laminate to ensure your office desks will withstand daily use.
Office Desk Sizes
Finding the appropriate desk that will suit both your functional needs, and the size of your space can prove daunting. Your office desk needs to fit the work area while allowing enough leftover space to comfortably maneuver around. The following guidelines can help:
Measure the width and depth of your office space.
Allow 2-3 feet of walking space on either side of the desk (if not adjacent to a wall) for enough clearance to maneuver around.
Standard desk heights typically stand 30 inches high, which accommodates for most users' leg lengths.
Credenza office desks are typically 24 inches deep.
The ideal height at which a computer screen sits on a desk should be about 3 inches higher than eye-level.
Pay special attention to the height at which a keyboard will reach your arms for appropriate ergonomic comfort. Your elbows should bend at a 90-degree angle.
Office Desk Types
The type of office desk you select will depend on the style and function you set for your office space. There are many different types of office desks to select from which offer unique benefits: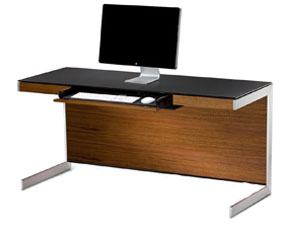 Computer Desk
A computer office desk is designed to improve the efficiency of an office, offering room and workspace to hold computers, various hardware, and file storage. A computer desk is the standard option in selecting an office desk, and comes in many styles, colors, and sizes.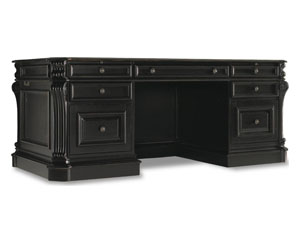 Executive Desk
Executive desks convey a professional image that is appropriate to upper management. A larger scale means executive desks are designed to hold even more supplies and equipment than standard sized computer desks.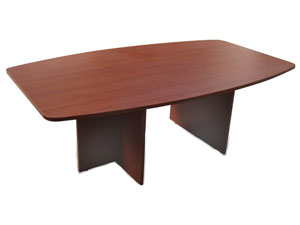 Conference Desks
A conference desk helps to gather a group of people to hold meetings and assemble a group of people for a conference. Much like an executive desk, conference desks are large in scale with a stately appearance. Conference desks are occasional tables, and are rarely used for everyday use.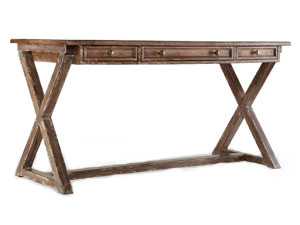 Secretary Desk
Also known as a writing desk, bureau, or secretaire, secretary desks are petite-sized desks that typically come in two heights: low and high. Because of their smaller profile, traditionally secretary desks have been placed at corners of rooms (but can be placed just about anywhere). Most models entail lower drawers, a pull-out writing surface, and storage overhead to contain various supplies.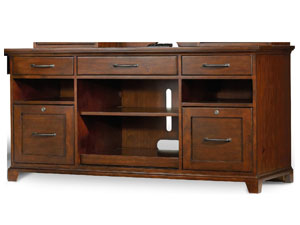 Credenza Desk
A credenza desk is traditionally designated to be paired with a primary or L-shape desk as a secondary work surface. They serve as the perfect side table and often contain a stack of shelves, small drawers, or other nooks to contain storage.
Laptop Stands
Laptop stands, or vertical risers, are the smallest version of office desks that are specifically used to hold a laptop. Best used in casual environments, laptop stands are modified end tables that can be used by the sides of seating for a convenient surface area to work.
Office Desk Features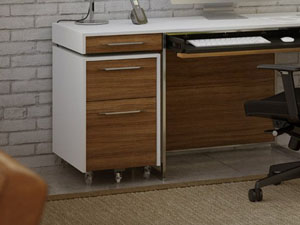 File Cabinets
File cabinets are an enclosure of drawers that helps organize extra paperwork. The two most common types of file cabinets are vertical files and lateral files. File cabinets will frequently fit under desks to keep files close at hand.
Roll Top
A feature common to secretary desks, a roll top refers to a cylindrical covering that can be pulled over a tabletop surface to help cover shelves, nooks, and other compartments on a desk.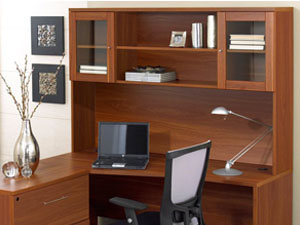 Desk Hutches
Add extra storage on top of desks and credenzas.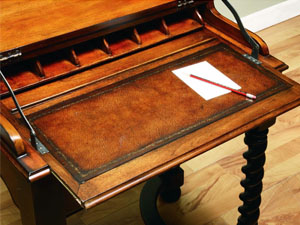 Pull-Out Surface
A pull-out panel gives you an extra work surface for an added area that can be conveniently used for extra tasks.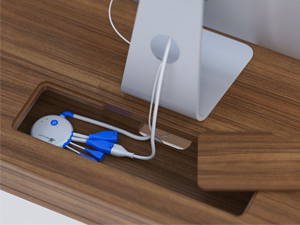 Cord Accommodations
Specially designed holes installed at the back of desks allow you to organize and conceal cable wires to keep getting wires tangled across workspaces for effective wire management.
Office Desk Care
Wood Desks
Prevent water rings and spills by using coasters. Wipe away any spilled liquid as soon as possible with a dry soft cloth. Maintaining a consistent humidity level (ideally 50%) will prevent wood from warping.
Desks with Glass Tops
Avoid scratches by not dragging rough or sharp objects along its surface.